LED shoes take to the dance floor
Comments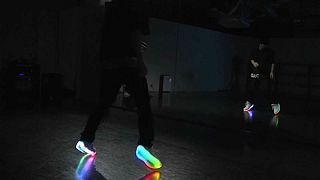 Forget disco lights. All you need to cause a stir on the dancefloor these days is smart, flashing LED footwear.
Called Orphe, the glowing soles are powered by 50 individually-controlled LED lights. They contain three sensors; an accelerometer, a gyroscope and a compass and can be programmed to light up when the wearer receives an email or message.
The shoes were created by Yuya Kikukawa, an electrical engineer who spent months developing a prototype.
"We had to come up with a proper shoe design that people would wear. We had to worry about the shoe's comfort, and durability, To achieve all this was challenging. So after consulting with many people, we started a crowdfunding project."
Shoe movement can be monitored on a computer screen with just a 20-millisecond delay. They can also be tailored to help give directions, lighting up in certain areas to point the right direction to walk. Plans for the future include developing health apps for the shoes.
Not surprisingly The vast majority of customers are dancers and performers.