Veteran astronaut set to blast into space for third time
Comments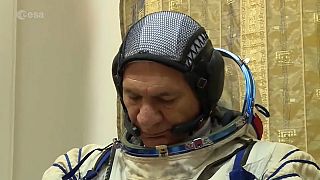 Italian astronaut Paolo Nespoli, aged 60, is about to go into space for the third time making him Europe's oldest astronaut.
At the end of July, he will voyage to the international Space Station with his Russian and American crew mates. Even with two space missions already under his belt, Nespoli has undergone extensive training learning new skills needed in a weightless environment.
Although this is his third flight, Nespoli has lost none of his enthusiasm for space travel.
"Everyday I ask myself a sort of jokey question, because I'm trying to understand what I'll do when l grow up," he says. "For me, this is the way to not only feel young but also to keep active because, in the end, just having a feeling of accomplishment doesn't work."
The veteran astronaut is unlikely to have a fourth journey into space, but is full of plans for the future.
"There are a lot of things that I would like to do. For example, I have an airplane pilot's licence but one of my dreams is to fly a helicopter," he says. "I've tried to fly a helicopter but I need a helicopter licence and I've tried to get it, but I need a whole month or a month and a half and until now, in the last seven or eight years, it hasn't been possible to take the time off."
Another of Nespoli's long-cherished dreams is more earth-bound. "From space you can see earth and you see earth through different eyes," he explains. "You can see really wonderful things and during the last mission I promised myself I would take some pictures of special places and then go and visit them 'physically' when I'm back on Earth."