LGBT army unit established to take on ISIL
Comments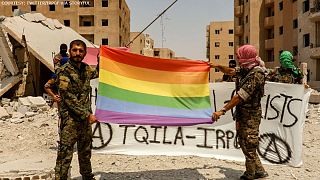 A special army unit including gay, lesbian, bisexual and trans fighters has been established to take on ISIL, according to a group representing foreign fighters in Syria.
The International Revolutionary People's Guerrilla Forces (IRPGF), said it had formed a Queer Insurrection and Liberation Army in response to persecution of the groups by the so-called Islamic State, in a post on its Twitter page
However, the group, which often fights alongside the Kurdish YPG, did not say how many fighters had been recruited for the unit and did not present any evidence that it had seen action.
The inspiration for the formation of the group is said to have come from images of homosexual prisoners being thrown to their deaths from a building in Mosul.
The group also said it opposed attacks on LGBT people carried out by Christian conservatives.
The formation of The Queer Insurrection and Liberation Army (TQILA), a subgroup of the IRPGF. Queer Liberation! Death to Rainbow Capitalism! pic.twitter.com/Tp1×2PZ079

—

IRPGF

(@IRPGF) 24 juillet 2017
A Tweet announcing the formation of

TQILA
TİKKO guerrilla & new IFB commander Heval Mahir is a dear friend of the IRPGF and supporter of Queer liberation. RojavaTikko</a> <a href="https://twitter.com/ozgurgelecek4">ozgurgelecek4pic.twitter.com/Ww6DW44O1Q

—

IRPGF

(@IRPGF) 25 juillet 2017
The IRPGF replied to a comment on Twitter saying that the acronym for the Queer Insurrection and Liberation Armyor (TQILA) is pronounced "tequila".
We sure do! :)

—

IRPGF

(@IRPGF) 24 juillet 2017
Heval Rojhilat, a TQILA spokesperson declined to comment on the size of the newly-formed group for security reasons.
"Many of our comrades are within the LGBT*QI+ community," he said. "We are already fighting in Raqqa."