Which are the world's most influential countries?
Comments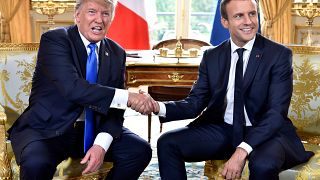 France has risen to the top of a list of the world's most influential countries following the election of Emmanuel Macron.
It replaced the US in the number one position in the Soft Power Index complied by the University of Southern California and PR firm Portland Communications.
Soft Power is a term used to describe the influence of a country beyond traditional political or military strength. It includes aspects such as culture, education, economics and even sport.
The Soft Power Index uses polling in 25 countries as well as measures such as the number of Michelin-starred restaurants and levels of digital engagement to rank nations against each other.
The report's authors noted that the election of Donald Trump and the Brexit vote in the UK, weighed on both country's statuses.
"The UK … will spend the next two years expending nearly all of its energy on a bitter divorce with its largest trading partner and close allies," the report noted. "At the same time, the US is test-driving its new "America First" foreign policy, which – at least initially – has put allies on edge, left the post-World War II security architecture creaking under the weight of uncertainty, and knocked back global efforts to combat climate change."
The report noted that rather than causing a domino effect, Brexit appears for the moment to have increased unity within the rest of the European Union.
The soft power top 10