ECB leaves refinancing rate unchanged
Comments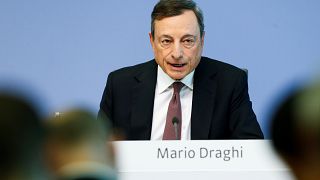 As expected, the European Central Bank has left its benchmark refinancing rate unchanged at 0 percent. ECB President Mario Draghi said the next stage in its Quantitative Easing programme will be discussed in the autumn.
He insisted that inflation pressures are still weak, and a premature tightening would threaten the whole eurozone recovery.
"After a long time we are finally experiencing robust recovery where we only have to wait for wages and prices to follow course to move toward our objective," he explained.
The inflation rate in the eurozone was 1.3% in June, down slightly from 1.4% in May, some way below the ECB's target of under 2%.
Draghi's comments sent the euro to its highest level in nearly two years with the eurozone economy growing for the 17th straight quarter.