'Paths of Friendship' unite Iran and Italy
Comments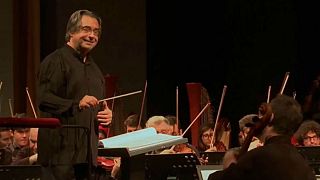 Italy and Iran have joined forces in Tehran for a rare classical music performance.
Conducted by acclaimed maestro Riccardo Muti, it forms part of the "Paths of Friendship" project, which sees Italian and Iranian musicians play together in two concerts.
"I am happy that, in the name of music, which has no borders and no barriers, these two peoples (Italian and Iranian) are uniting and are expressing themselves together," said Muti.
Tehran's Symphony Orchestra was disbanded under former president Mahmoud Ahmadinejad's hardline rule and only reinstated in 2015.