360 video: from camps to classrooms
Comments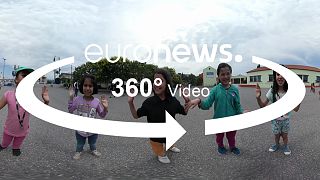 There are twenty thousand refugee children in Greece according to UNICEF. Some already live in the cities, and others still in accommodation centres. The ones in the city have gradually been introduced into official Greek schools since last October. Before that, they attended only informal education classes inside camps.
The figures are staggering. At the last count there were currently two and a half thousand children living in thirty two refugee camps who are being transported daily to ninety three Greek public schools.
These children represent roughly eighty percent of all those hosted in accommodation centres in mainland Greece. The transportation project that made this change possible is funded by the EU Humanitarian Aid Department and implemented by IOM, the UN Migration Agency.
Teachers told us that some children had never been to school in their home countries. When the project started, the trip from the refugee camp to class was something so big for the kids, that it was even tricky to coordinate. Little by little pupils got used to it and the process has become smoother.
Efi Kremou, the headmaster of Avlona elementary school, said that refugee students face the same problems all foreign students have when moving to a new country. She added that schools have "the know-how, the schedule and the willingness to welcome refugee students". Her school has hosted twenty refugee pupils this year.
The Ministry of Education has made assurances that refugee children living in camps will return to school next September together with Greek children.