Inside an aerobatic flight: a 360 view from the cockpit
Comments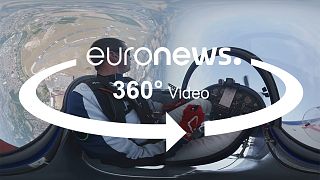 "I only fly at 20-30% of my capabilities. I use the rest to present the aeroplane correctly, so that the public will recognise the aircraft and appreciate the flight," explains Benoît Merieau.
I only fly at 20-30% of my capabilities.

Aerobatics pilot
Merieau is a former world champion in aerobatics, and he agreed to take our 360 camera with him in during his flight at the Paris Air Show.
Watch the video to experience what it's like to do harrowing loops high above the ground in Merieau's AVA CAP432.
Though it looks dangerous, Benoît Merieau insists that it isn't: "You can mitigate the danger by being in good health, having a good night's sleep and by checking the plane properly. But aerobatics is a team sport. You have a mechanic, you have a trainer and there is a shared trust. If someone on the ground tells you over the radio that 'you're not doing the correct figures (proper manouvers), maybe you are tired, you should land,' – you do it."
If you follow the basic rules, aerobatics is no more dangerous than "biking in Paris," he adds.