Macron magic: French president's party poised for landslide
Comments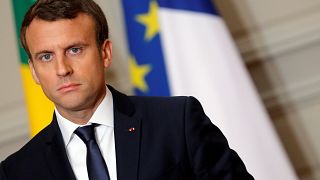 Emmanuel Macron has done it again.
After he won the presidency last month, now his party is making the headlines with success in France's parliamentary elections and a landslide win in perspective.
The 39-year-old ex-banker only created his 'Republic on the Move' party just over a year ago.
With fellow centrist allies Modem, it has won over 32 percent in Sunday's first-round vote, delivering a crushing blow to the established parties on the right and left.
Hold on, it wasn't meant to be this easy for Emmanuel Macron https://t.co/XhtR8aHqgSpic.twitter.com/Jrowf9En1f

— The Local France (@TheLocalFrance) 11 juin 2017
However fewer than half of the 47 million voters turned out in the first round – the lowest level by far in a legislative election in France's 60-year-old fifth Republic.
Macron's opponents and some members of the wider public see that as a danger to democracy.
"It is troublesome because there is a lack of opposition. For sure, that leaves the door wide open and gives a big key to Mr Macron. It is a bit of a shame," said Christophe Tricart, 55, in Paris.
"There is a problem of legitimacy when more than 50 percent of voters haven't turned out, not to mention those with spoiled ballot papers," said Frederic Maynier, another passer-by in the French capital.
Macron's candidates, many of them political novices, and their allies could win up to three quarters of seats in the National Assembly, in next Sunday's decisive second round of voting.
That would be France's biggest majority in decades, and effectively leaves only the powerful trade union movement as a potential obstacle to the pro-business reforms Macron has promised to introduce in a bid to boost growth and jobs.
with Reuters