London attacks: 'We heard gunshots... they said you gotta get out'
Comments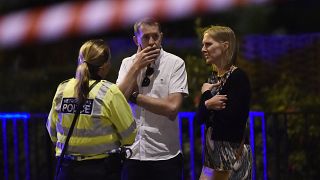 The streets around London Bridge and Borough Market, trendy districts packed with bars and restaurants, were busy with people on a Saturday night out.
Six people were killed and dozens injured in what police are describing as a series of coordinated attacks on Saturday night. Police arrived quickly on the scene and shot dead the three attackers.
Witnesses described seeing a white van careering into pedestrians on London Bridge shortly after ten o'clock local time. At nearby Borough Market others witnessed the horror as men with knives stabbed people at random.
At least one witness described hearing them call praise for Allah.
"Well again we were upstairs just in front of the Borough Market in our AirBnB on the third floor and we just heard gunshots. We heard a lot of crashes, so as we looked outside the first thing you see, again, is a lot of fear and confusion with everyone outside on the streets. And then, you know, before the police came again, there was a lot going on. People were running in various different directions. And then thankfully, again you know, the police were able to come," said one tourist called Luka.
"Yeah people were telling everybody, the police were telling everybody to evacuate and we were just looking out of our window, seeing what was going on because we just heard like gunshots and big crashes. And then they hauled us down and told us to evacuate. We were peeking outside of the windows and they just told us to come down," said a young woman with him, named as Jenalyn.
Luka added: "They told us 'You gotta get out and you've got to get out now'."
"We saw people coming out of their apartments and they did not even have shoes on, they were just in their pyjamas, it was pretty traumatic experience," said Jenalyn.
The authorities say only eight minutes elapsed between the first alert and the attackers being shot dead.
Nearly 50 people were taken to hospitals across the city – three major hospitals were on lockdown to keep patients and staff safe.