Britain must get tough on islamist extremism
Comments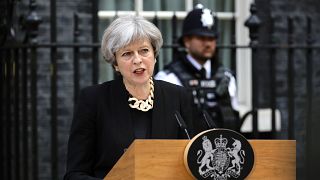 Britain has to be tougher in stamping out Islamist extremism. That's the message from Prime Minister Theresa May following Saturday's nights terror attack in London.
Speaking from Downing street she said the country has been far too tolerant of extremism.
"First, while the recent attacks are not connected by common networks, they are connected in one important sense. They are bound together by the single evil ideology of Islamist extremism that preaches hatred, sews division and promotes sectarianism. It is an ideology that claims our Western values of freedom, democracy and human rights are incompatible with the religion of Islam," said Britain's prime minister.
Resuming his election campaign on Sunday evening Opposition leader Jeremy Corbyn stressed those who fund extremism should be sanctions whoever they are.
"We do need to have some difficult conversations, starting with Saudi Arabia and other Gulf states who have funded and fuelled extremist ideology. It is no good Theresa May suppressing a report into the foreign funding of extremist groups, we have to get serious about cutting off their funding to these terror networks, including ISIS, here and in the Middle East," said Jeremy Corbyn
Britain goes to the polls on June 8 in a snap election called by May aimed at boosting her majority. After Saturday night's attack campaigning was temporarily suspended but with its resumption the issue of security is set to dominate the final few days.