Greeks disappointed at no eurozone bailout deal
Comments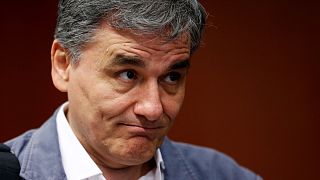 There was disappointment but no surprise in Greece after eurozone finance ministers meeting in Brussels failed to reach agreement on the release of billions in new loan money.
The sticking point is the International Monetary Fund joining the loan programme amid some debt relief for Greece.
The Greek government had hoped it would be enough that its parliament has approved future cuts in pensions and other social payments along with tax increases but Brussels wants all previously agreed reforms implemented.
On the streets of Athens one man was not optimistic saying: "Nothing can be done about the debt and there can't be any recovery with the way the economy is going. I believe the lenders are trying to gain time for their own reasons."
One woman blamed the Greek government: "I'm disgusted. I don't expect anything from them, I am not hopeful, and I believe that everything they say is a lie."
Greece needs new cash from the eurozone to avoid a default in July when it has to repay 7.3 billion euros of previous loans.
Can that happen? Well, the Greek and German finance ministers have said a deal could be reached when the eurozone ministers meet again in three weeks time.
Germany's Wolfgang Schaeuble said his government is not blocking anything, it is just sticking to the rules, adding that if everything goes well, a deal will be made at a June meeting.