In 48 hours 5,000 migrants rescued from Mediterranean
Comments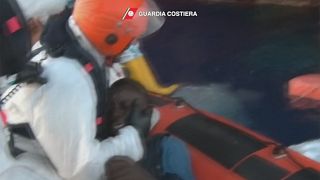 There's no let-up in the migrant influx to European shores.
A reported 5,000 were rescued on Thursday and Friday, during multiple operations in the Mediterranean Sea.
The Italian and Libyan Coast Guards coordinated the missions, which took place off the coast of the African nation. One lifeless body was also found.
It comes days after the Italian Senate Defence Committee recommended stricter monitoring of NGOs and other humanitarian organisations operating in the Med.
The parliamentary commission also proposed that Malta and Tunisia, which lie geographically closer to Libya, should do more to help combat the huge numbers of migrants using the country as a launchpad for reaching Europe.
54,715 migrants incl refugees arrived by sea to Europe. 1,332 dead/missing https://t.co/XwXhswRR9b#MigrationEuropepic.twitter.com/akvYK3lN4x

— IOM (@UNmigration) May 19, 2017
According to the International Organization for Migration, over 45,000 migrants have made that particular sea crossing this year so far. 1,332 people died or went missing during the journey.