Syria and Russia condemn US strikes in Tanf
Comments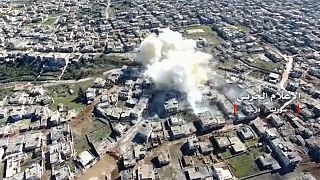 Both Syria and its ally Russia have condemned US-led air strikes on Syrian government forces near the border with Jordan.
Moscow labelled the attack "unacceptable" and a violation of Syrian sovereignty, while Damascus said it was a "blatant attack on forces fighting terrorism.
A convoy of soldiers loyal to Syrian President Bashar al-Assad was hit on Thursday (May 18) as it moved nearer to US-backed rebels and a Western special forces unit in Tanf.
According to a US defence official, the coalition will continue along the same strategic lines, which have consisted of fighting ISIL and largely staying out of Syria's civil war.
Washington insists Russia was given advanced notice of the latest strikes and claims warning shots were ignored.
It says the convoy targeted was made up of Syrian and Iranian-backed militias. However, both Syria and Russia refute this.
Damascus claims one of the "military points" of its army was attacked, while Moscow said "the Syrian armed forces" were targeted.