Labour's policies have been branded radical in the UK - but how do they compare to Europe and beyond?
Comments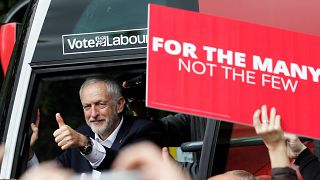 Increasing corporation tax
Britain currently has the lowest rate of corporation tax of any OECD nation at 19 percent. Labour proposes bringing in an extra 19.4 billion GBP (€22.6 billion) by hiking it up "a little".
Germany, "the economic powerhouse of Europe", charges 30 percent corporation tax; France 34 percent and the US (including regional tax) a whopping 39 percent.
30 hours of free childcare for all two year-olds
In Finland there is a universal right to childcare for every child between about nine months and school age. Similarly in Denmark, every child is guaranteed an affordable nursery place from the age of one to when school starts at six. It is little wonder that these countries are said to be "the envy of working families."
I've crammed Labour's 124 page manifesto into 1 graphic. If you click on it, it automatically enlarges. Please consider sharing for others. pic.twitter.com/jxK5mVYY4p

— Eoin (@LabourEoin) May 16, 2017
A ban on hydraulic fracturing or "fracking"
Apart from the obvious concerns about carbon emissions, fracking has been known to contaminate water with poisonous heavy metals and lead to ecosystem destruction, sinkholes and even small earthquakes. England would join Scotland, France, Bulgaria and Germany in banning the process.
An inflation cap on rent prices
Various forms of this policy exist in several capitals already, although they are less common on a national level as the Labour Party proposes.
In January of this year, rent caps were rolled-out across 23 Irish towns having already been enforced in the "rent pressure zones" of Dublin and Cork. The cap means rent can not be increased by more than 4 percent annually.
In 2015 Berlin enforced legislation to put the brakes on soaring rent prices. Landlords in the German capital are barred from increasing rents by more than 10 percent of the local average. "The rent ceiling is very important for Berlin because the difference between the rent paid in existing contracts and new contracts is so high," explained Reiner Wild, managing director of the Berlin Tenants' Association.
"Labour will scrap tuition fees" to lift "debt cloud" from young people – jeremycorbyn</a> launches <a href="https://twitter.com/hashtag/GE2017?src=hash">#GE2017</a> manifesto <a href="https://t.co/XaNcXWC7bm">https://t.co/XaNcXWC7bm</a> <a href="https://t.co/r1CLtUrK4e">pic.twitter.com/r1CLtUrK4e</a></p>— BBC News (UK) (BBCNews) May 16, 2017
Nationalisation of railways
Britain's railways, a favoured bone of contention among voters, have been privately run since the Conservative government's 1993 Railways Act. Germany's state-owned Deutsche Bahn has a pretty enviable record: 94 percent of services run on time and €2 billion went back into the public purse in 2015.
Despite severe losses in 2015 (around €12 billion) the government owned SNCF in France enjoyed €567m net profit in 2016.
On the other hand, there are examples of privatised railways working extremely well outside the UK. Japan's flagship high-speed line, the Tokaido Shinkansen, has operated for almost half a century without a single collision or derailment. In 2007, its average departure delay was a mere 18 seconds along a route spanning 514 kilometres.
Well said. Watch Jeremy's response when questioned on his leadership at the Labour Manifesto launch today pic.twitter.com/YFk4T60kg7#GE2017

— Jeremy Corbyn for PM (@JeremyCorbyn4PM) May 16, 2017