Party time in Paris as Macron supporters celebrate win
Comments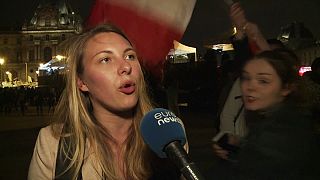 Emmanuel Macron's emphatic victory went down well with his supporters. Not only did they see it as a win against the far-right but many viewed it as a breakthrough against the dominance of France's mainstream parties.
"It's a great celebration because they have won over 65 percent. So, it shows that the French want something fresh but not extreme. This is a big victory for us, a year ago the party was nothing, now we have succeeded."
"I am very glad Emmanuel has been elected, really, really. I was against Marine Le Pen … phew… I am very pro European, very very and this a a victory for Europe"
"It's relief … but more of a celebration."
"It is optimism, but prudent optimism because it is necessary to wait for the legislatives and to wait to see what will happen then…."
"I voted Macron in the second round, not in the first round, to counter Marine Le Pen, but I'm waiting to see what he is going to do, because I don't have any confidence … I voted for Benoit Hamon in the first round, I would have continued to support Benoit Hamon, because I would have like to be be faithful to the Socialist Party."
In Paris almost 90 percent of voters backed Macron. It was a huge wave of support, larger than anywhere else in the country.
Reporting for Euronews in the French capital, Grégoire Lory said:
"For his first speech to his supporters as president, Emmanuel Macron presented himself as a unifier. To those who genuinely supported him and to those who voted to oppose the Front National. The objective now is to convert his presidential victory into a legislative one."