A historical look at Macron, France's man of the moment
Comments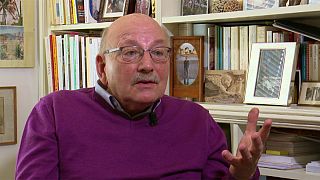 Euronews spoke to prominent French historian Jean-Pierre Rioux about the significance of Emmanuel Macron's slow march through the courtyard of the Louvre before rallying with his supporters.
Olivier Peguy, Euronews: "Emmanuel Macron chose to celebrate his electoral victory on the esplanade of the Louvre. What should we make of this choice?"
Jean-Pierre Rioux, French historian: "On this occasion he used both the strength of the image but filled it with the pyramid, and the Louvre Palace itself. It was akin to a solitary march towards the accomplishment of a personal destiny.
He added a symbolic dimension that did not appear much during the campaign of any of the eleven presidential candidates. It was as if he was paying hommage to France's Augustusian side (King Louis XVI – Louis Auguste de France), I wouldn't say promethean, the presidential function: the president of all French, guarantor of the institutions, etc … and the holder of the nuclear fire.
Finally, there is something extremely important that must be translated. There is a symbolism that mimics Miterrand's walk to the Pantheon, but there is no rose in his hand."
Olivier Peguy, Euronews: "Emmanuel Macron joined the Victory in Europe commemoration ceremonies of May 8, 1945. This is an important date in history. He was invited by President François Hollande. Will Macron's presence give him some sort of historical importance or protection the day after his election? "
Jean-Pierre Rioux, French historian: "He is assured some gravity because of the office of president. One can imagine that he will be a president less commemorative, if I may say so, than his predecessor. François Hollande made a very public point of commemorating everything. I would even say that he did a great job in terms of keep the historic memory alive in all sorts of domains "
Olivier Peguy, Euronews: "What do you think history will say about François Hollande's five-year term?"
Jean-Pierre Rioux, French historian: "There's a fundamental sanction. If his five-year term was positive, he would have stood again as a candidate, but that is not the case. What can be imagined according to Macron's program, the Macron project, etc., and the electoral campaign itself, we can still assume that Emmanuel Macron will have a more active and hopeful European policy than that of François Hollande. "