The astronaut voting from space
Comments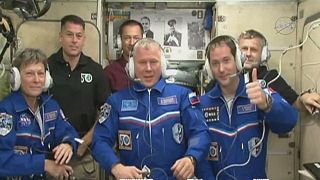 He may be hundreds of miles away at the International Space Station, but that hasn't stopped Thomas Pesquet from voting in the French election.
With the help of a friend, he was able to take part in what has become one of the most turbulent battles for the French presidency in decades.
A #timelapse that highlights how much of our planet is desert, water and covered in clouds! https://t.co/MNNwvuQUHXpic.twitter.com/lmjD1hJZB2

— Thomas Pesquet (@Thom_astro) May 5, 2017
Mr Pesquet, who now lives in Germany, said: "It was a bit complicated because I live abroad, but the people from the consulate were really nice so I was able to arrange for a French colleague to vote for me."
The European Space Agency astronaut will return to earth at the end of May, after completing a six month mission at the space station.