Russia-Turkey relations "fully recovered" - Putin
Comments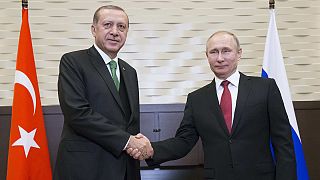 Russian President Vladimir Putin says his country's relationship with Turkey has fully recovered after a recent crisis.
Moscow retaliated against Ankara by imposing economic sanctions following the downing of a Russian warplane near the Syrian border in 2015.
Ankara took measures of its own.
The talks between Recep Tayyip Erdogan and Vladimir Putin, which are said to have lasted an hour and a half, come before Erdogan's meeting with Donald Trump on May 16-17, the NATO summit in Brussels and the international economic forum in China on May 14-15.
The Kremlin press service issued a statement ahead of the meeting.
[In Photos]Turkish President Recep Tayyip Erdogan meets Russian President Vladimir Putin https://t.co/Gtl2GZ4gUKpic.twitter.com/Nevl5s4VlM

—

ANADOLU

AGENCY

(

ENG

) (@anadoluagency) 3 mai 2017
What Putin said
Speaking after talks in the Russian Black Sea resort of Sochi, Putin said relations are getting back to normal and trade is no longer falling.
Syria, energy, terrorism and tourism were on the agenda.
Putin says Russia will launch a joint investment fund with Turkey and added that Moscow will help Turkey improve security measures at its tourist resorts.
What was on the agenda?
The statement said the two leaders would discuss:
The situation in Syria
The joint fight against terrorism
The issue of bilateral cooperation
"The leaders will exchange views on the entire range of Russian-Turkish relations, in particular in the context of the agreements reached at the sixth meeting of the Cooperation Council of the highest level that was held in Moscow on March 10," the press statement said.
"It is also planned to consider current regional and international problems, first of all those related to fighting against terrorism and the settlement of the Syrian crisis."
Erdogan says wants Russian trade restrictions on Turkey lifted rapidly https://t.co/eBILuOCOep

— Reuters World (@ReutersWorld) 3 mai 2017
What about Syria?
Analysts say the conflict-torn country was likely to be the main topic on the agenda.
It could even have pushed back the most pressing issues of trade and economic cooperation.
The visit is unexpected and was not planned in advance. The thinking is this could indicate there is a pressing issue about the Syrian conflict that the two presidents need to discuss promptly.
What else will they talk about?
Bilateral cooperation. The two leaders will focus on the current disagreements in trade.
Russia still does not admit a number of Turkish agricultural products to its market.
In response, Turkey restricts purchases of Russian grain by imposing import duties.
Despite several rounds of interdepartmental talks, the situation is yet to be resolved.
Erdogan and Putin also discussed oil and gas cooperation and the construction of the Akkuyu nuclear power plant.
They also focused on the purchase of S-400 anti-aircraft missile systems by Turkey.
Negotiations on this topic have been ongoing since last winter. However, nothing concrete has yet been declared.
When did they last see each other?
The previous meeting between Putin and Erdogan took place in March in Moscow.
The leaders have spoken on the phone five times since the beginning of the year.
What Erdogan says
The Turkish president said he would discuss possible operations in Syria's Manbij and Raqqa with Russian President Vladimir Putin during his official visit to Russia
Recep Tayyip Erdogan said he hoped the upcoming discussions with Vladimir Putin and also US President Donald Trump would start a new era in Syria and Iraq.
Erdogan also said he would tell Vladimir Putin that he wants Russian trade restrictions on Turkey lifted rapidly.
Speaking in Ankara before travelling to Sochi to meet Putin, Erdogan told reporters that reaching a political solution to the conflict in Syria was a joint goal of Turkey and Russia.