Turkey arrests 1,000 people as post-coup purge continues
Comments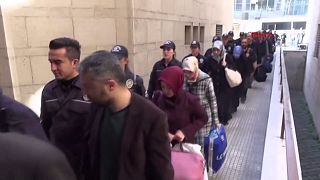 Turkish authorities arrested another thousand people on Wednesday over suspected links with the exiled cleric Fethullah Gulen, the archenemy of President Recep Tayyip Erdogan.
It's the latest in a massive purge targeting civil servants since a failed coup nine months ago, which Turkey blames on Gulen's supporters. In the wake of the July coup attempt, authorities have arrested more than 40,000 people – including soldiers, police, teachers – and sacked or suspended 120,000.
The latest roundup was said to target the police force and is one of the biggest in recent months.
It comes just a day after a top human rights body, the Council of Europe, put Turkey on a watchlist following a referendum earlier this month giving Erdogan sweeping new powers.
COE puts Turkey on watchlist https://t.co/VRlIGc5mYIpic.twitter.com/i4jFCl9BFX

— euronews (@euronews) April 25, 2017
Turkey is just 25 places off the very bottom of the new #RSFindex, out today. #pressfreedom#freeturkeymediahttps://t.co/IbbxoSJ4jJpic.twitter.com/jJlXEOCEd8

— Thomas Coombes (@T_Coombes) April 26, 2017
The Council of Europe is separate from the EU, but the decision could further hurt Turkey's ties with the bloc, which MEPs were set to debate later on Wednesday.
Erdogan has slammed the Council's move as "entirely political" and said Ankara will not wait at Europe's door forever. He accused it of being hostile to Turkey, even as his country plays a key role in stemming the flow of migrants from neighbouring Syria.
He threatened to walk away from EU membership talks altogether.
Turkey's relations with the EU reached a new low in the run-up to the constitutional referendum, when Erdogan accused Germany and the Netherlands of acting like Nazis by banning rallies by his supporters.
"In Europe, things have become very serious in terms of the extent of Islamophobia. The EU is closing its doors on Turkey and Turkey isn't closing its doors on anybody," Erdogan told Reuters in an interview, showing photos of vandalised mosques and supporters of the outlawed Kurdish militants rallying against him in Europe.
"If they're not acting sincerely we have to find a way out. Why should we wait any longer? We're talking about 54 years," he said, referring to the 1963 Ankara Agreement which acknowledged the long-term goal of Turkish membership of a united Europe.
He suggested Turkey could hold a vote similar to Britain's on EU membership. He said Brexit had given Britain "peace of mind" and that it was "walking towards a new future".
Erdogan tells Reuters</a> Turkey could reconsider its position on Europe <a href="https://t.co/poUoBa8I1H">https://t.co/poUoBa8I1H</a></p>&mdash; Alastair Macdonald (macdonaldrtr) April 25, 2017