French vote: The mainstream losers
Comments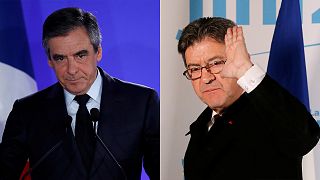 The presidential election was a huge defeat for France's mainstream parties.
The Socialists and Républicans which have dominated French politics for more than half a century but both failed to reach the second round.
Conservative candidate François Fillon said after the vote: "As of now, I accept full responsibilitv. This defeat is my own, and it is up to me and me alone, to carry it."
Déclaration à la suite des résultats du premier tour de l'élection présidentielle. pic.twitter.com/HD5xNdU1J8

— François Fillon (@FrancoisFillon) April 23, 2017
Fillon was the early favourite in the election. But his support plummeted when a scandal erupted over alleged fake jobs for his family.
Some party members criticised Fillon for not pulling out of the race, when there was still time to find a replacement.
Executives of the party have already held meetings to establish how to move forward from the first round defeat.
No joy for benoithamon</a> and <a href="https://twitter.com/FrancoisFillon">FrancoisFillon as mainstream parties fell woefully short at #Frenchelections#euronewshttps://t.co/6whkOIRtskpic.twitter.com/K2iGpT25C8

— euronews (@euronews) April 24, 2017
But it's likely take the bruised Socialists' Party longer to recover, after polling an historical low of just 6%.
Facing an identity crisis, the party lost many voters to other political groups, especially to far-left candidate Jean-Luc Mélenchon.
Olivier Faure, leader of the Socialists' parliamentary group, said: "It's clearly the end of something but the beginning of something too. Now it's our responsibility to recreate a political proposition with wide-ranging appeal so that we can again embody a hope for the French people once more."
The strange death of the French Socialist Party: 2012 v. 2017 #Presidentielle2017#France2017 via AFP</a> <a href="https://t.co/QprLpZMn9o">pic.twitter.com/QprLpZMn9o</a></p>&mdash; James Franey (jamesfraney) April 24, 2017
Socialist candidate Benoît Hamon struggled to make an impression during the campaign, in the shadow of the unpopular President François Hollande.
As Hollande's five year term ends, the nation's problems remain, unemployment, a faltering economy and the threat of terrorism.
The Republicans and the Socialists will now have to focus on the parliamentary election in June, in order not to lose all political ground.
---
Discover euronews quotes and opinions about the 2017 French Elections to get all views