"Trump has chosen the path of war" - Ahmadinejad speaks exclusively to Euronews
Comments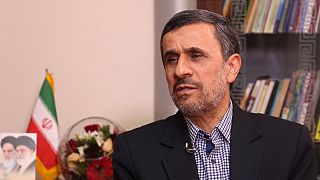 Mahmoud Ahmadinejad says US president Donald Trump has "chosen the path of war".
The hardline former president is standing in Iran's presidential election on May 19.
Speaking exclusively to Euronews, he described the 2015 nuclear deal Tehran signed with world powers as "not clear":
"In my opinion, the way information was given was incorrect. The nation was not given the correct information. And then we saw what was said did not materialise. Sanctions continued, new sanctions were imposed, some of them were extended. In the agreement, the capacity for legal follow-up had not been envisaged."
Ahmadinejad predicts US policy on Syria will lead to war – and the collapse of America's global power.
"I think Mr. Trump chose the path of war, in spite of the promises he gave his people. I have said this before and I say it again: this war will certainly lead to the fall of the US global hegemony."
"Iran, the US, Russia, Saudi Arabia, Turkey – we all have to join hands to primarily work for the security, dialogue and peace of Syria. And secondly, for helping realise the will and
sovereignty of the Syrian people. We have to respect Syrian sovereignty and let the people of Syria to choose what they want and we should accept their choice. Nobody, nobody is above the people of Syria, nobody."
Watch the entire interview from Wednesday evening on Euronews and www.euronews.com