Scores of candidates register for Iran's presidential election
Comments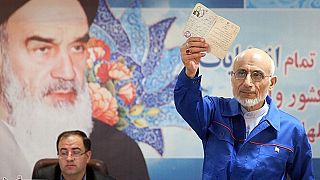 Candidates have begun registering for Iran's presidential election due to be held on May 19.
President Hassan Rouhani is expected to seek re-election.
Rouhani is a moderate who engineered Iran's 2015 nuclear deal with world powers that secured a removal of international financial and trade sanctions against Tehran.
Rouhani won election by a landslide in 2013 on a platform of ending the Islamic Republic's international isolation.
However, he faces a stiff challenge from hardline conservative Ebrahim Raisi.
Rouhani sidestepped questions at a news conference on Monday as to whether he would seek a second term, in what analysts believe will be a tight race with Raisi.
Rouhani retains considerable electoral strength, especially among Iran's large bloc of young, urban voters attracted to his vision of greater social freedoms and an end to Islamic clerical interference in their personal lives.
Honouring a 2013 campaign promise, Rouhani unveiled a "Bill of Rights" last year to safeguard freedom of speech, improve access to the Internet and protect citizen's
Honouring a 2013 campaign promise, Rouhani unveiled a "Bill of Rights" last year to safeguard freedom of speech, improve access to the Internet and protect citizens' privacy.
However, critics are wondering whether the bill could be implemented, given likely resistance within a hardline judiciary that lies beyond his direct authority.
How many have registered so far?
More than 100 candidates.
Who are the most notable?
Moderates and some influential leading conservatives, including parliament speaker Ali Larijiani, have endorsed Rouhani's presidency.
Raisi emerged as the main conservative challenger on Sunday.
Analysts say he could pose a real challenge to Rouhani's bid for a second term, thanks to the support he enjoys from Supreme Leader Ayatollah Khamenei.
Among other candidates, former culture minister Mostafa Mirsalim promised to invigorate the economy in a nod to frustration among working- and middle-class Iranians.
Hassan and Hossein Seyed-Hadi, twins in their late 20s, registered their names together and are promising to create jobs for the country's swelling youth population if elected.
How long will registration last?
Five days. After that time, candidates will be screened for their political and Islamic qualifications by a hardline vetting body, the Guardian Council. The body has stopped hundreds of candidates from participating in past elections.
What are the big issues for voters?
Discontent has risen over steep rises in consumer prices, coupled with stubbornly high unemployment.
Many Iranians are struggling to make ends meet, despite the lifting of international sanctions that Rouhani said would revive the economy.
The lifting of sanctions in January 2016 provided a short-term boost to the economy as inflation dropped to single digits and real GDP grew by as much as 7.4 percent.
Why has this not continued?
Experts think that, for sustained recovery, structural reforms will be needed to liberalise the economy.
This is something Rouhani could not deliver in his first term.
Recovery will also require significant foreign investment. However, that has been slow to resume in part because many investors have hesitated for fear of incurring penalties from lingering US sanctions.
Unemployment in Iran: the stats
12.4% in last fiscal year
Up 1.4% from previous year
About 3.2 million Iranians jobless out of population of 80 million
(The Statistical Centre of Iran)