Shanghai Auto Show: SUVs versus NEVs
Comments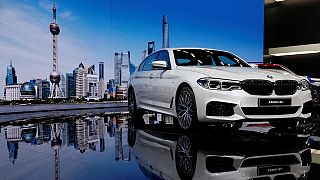 At the Shanghai Auto Show carmakers, both domestic and foreign, are hustling to grab a share of the world's largest market for new vehicles.
More than 1,000 companies are taking part in the show with over one million visitors expected after it opens to the public on Friday.
China saw double-digit sales growth last year though that is set slow to about five percent this year, according to the China Association of Automobile Manufacturers.
Big four-wheel-drive SUVs are popular, accounting for 40 percent of sales in China last year.
But manufacturers are showing and developing numerous battery electric and plug-in hybrid models in response to the government's desire for more green vehicles on the streets to counter China's chronic pollution.
However despite government subsidies for what are known as new energy vehicles (NEVs) they accounted for less than two percent of the 28 million vehicles sold last year.
#China expects 'handsome growth' in #2017 sales of new energy vehicles #NEVs 507,000 sold last year https://t.co/Cf10Vyh8ADpic.twitter.com/8gKC6xv4es

— Yicai Global 第一财经 (@yicaichina) February 18, 2017