Tailwind of Cyclone Debbie wreaks havoc in New Zealand
Comments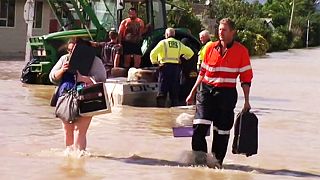 The tailwind of Cyclone Debbie is now causing havoc in New Zealand with widespread flooding and landslips.
Thousands of people are being evacuated from their homes, including in the Eastern Bay of Plenty town of Edgecumbe in the North Island.
Weather experts are calling it a once-in-500-years event.
Remains of Cyclone Debbie cause havoc in New Zealand with bad flooding. Wall of water: hundreds evacuate Edgecumbe https://t.co/6wzT0wBfUM

— Seamus Kearney (@seamuskearney_) April 6, 2017
Almost all of the 1600 residents in the town have been forced to flee their homes in Edgecumbe.
One man wading through the floodwaters told reporters: "We had to evacuate, house is totally flooded now. We're not sure how bad it's going to get.
"I just got a frantic call from my partner to come home and my boss said hey look they're closing Edgecumbe.
"So I shot over the bridge and then we had a lot of help from these fellas over there in that river boat. Good fellas, they picked us up."
Images of flooding devastation in New Zealand https://t.co/LuPIeqIWgP via nzherald</a></p>&mdash; Seamus Kearney (seamuskearney_) April 6, 2017
Edgecumbe was the epicentre of a big quake in March 1987 which made the town more prone to flooding.
Evacuated town in New Zealand was epicentre of strong March 1987 quake, making it more prone to flooding https://t.co/bK1M53kWKg

— Seamus Kearney (@seamuskearney_) April 6, 2017
Many roads have been blocked by landslips across the North Island after two days of heavy rainfall.
The remnants of Cyclone Debbie moved to New Zealand after pounding the Australian coast.