Eiffel Tower switched off as mark of respect to St Petersburg victims
Comments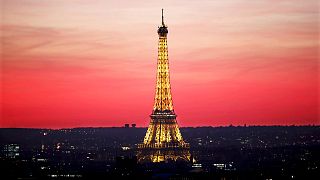 Perhaps Paris' most well-known landmark, the Eiffel Tower will turn off its lights at midnight on Tuesday, as a mark of respect to the victims of Monday's explosion on the St Petersburg metro system.
The Eiffel Tower's lights are often turned off, as a symbol of solidarity or remembrance after a terror attack or other violent incident.
On Tuesday you will be able to tune in to euronews on TV, and here, on our live web coverage to see the tribute.
Recent examples of similar shows of respect came after the attack on Westminster on 22 March 2017, and in December 2016 when lights went dark as show a solidarity with besieged Syrian city Aleppo.
Many landmarks, in Europe and further afield, are often lit up in this way. The Tel Aviv city hall showed the colours of the Russian flag on Monday, for example.
But one such monument has not been illuminated in the Russian tricolour after the St Petersburg attack, and it is being seen by some as a scandal.
The Brandenburg Gate in Berlin has recently shown the British Union flag, after the London car and knife attack.
But Berlin's city government said the Brandenburg Gate would only be lit in this fashion to commemorate events in "partner cities", which does not include St Petersburg.
In 2016 recognised the Orlando gay nightclub attack with a rainbow flag, and the monument was lit in Israeli colours after an attack in Jerusalem. These are not understood to be partner cities.
Ingo Mannteufel, head of German broadcaster Deutsche Welle's Russian service described the decision as a "scandal".
"(The West) has a moral and political duty to show solidarity with the victims of terrorism in Russia. That the Brandenburg Gate was not illuminated in the Russian colours was therefore wrong, yes, it is even a scandal", he said.
Head of the far-right political party Alternative for Germany (AfD), Frauke Petry said he feared the victims of this attack were being treated "as if they are second class", which he goes on to say would be "morally reprehensible" if true.
Berlin's ties with Moscow have been strained since the 2014 annexation of Crimea, and Russian action in Ukraine is not helping thaw tensions.
Germany's relationship with Russia is strongly linked to the two nations' past. Many in pre-reunification Germany learned Russian, and even travelled to Moscow as citizens of Communist East Germany.
Some of these citizens still feel close to Russia. This is key, as the Brandenburg Gate was part of the Berlin Wall which divided East and West Berlin before 1989.