Suspected gas attack kills dozens in northern Syria
Comments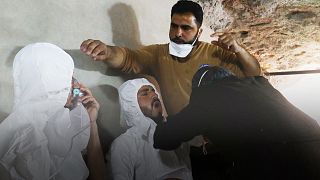 Another suspected chemical attack in Syria has killed at least fifty people including a dozen children.
The attack occured early this morning on the town of Khan Shaykhun in the northwestern province of Idlib. The clinic where the injured were being treated was later the target of bombings.
Sharing a video shot on his mobile phone, a British doctor volunteering in Syria claimed the patients had "non-reactive pinpoint pupils": "This hospital is now being overwhelmed with patients that have been hit by some sort of chemical. This is not chlorine, we do not smell chlorine on this patient. This is not chlorine gas, this is not chlorine, we have seen a lot of chlorine attacks, this patient has clear, clear pinpoint pupils," he said.
According to pro-opposition activists the gas used was sarin, which is almost impossible to detect because it is clear, colourless, tasteless and odourless when used in its purest form.
The Syrian army has repeatedly denied using chemical weapons, instead blaming the rebels.
A joint investigation with the UN concluded last year that Syrian forces had used chlorine as a weapon, and Human Rights Watch also recently accused government helicopters of dropping bombs containing chlorine on rebel-held areas of Aleppo during the final stages of the battle for the city.