European newspapers lead with "Terror attack in St. Petersburg"
Comments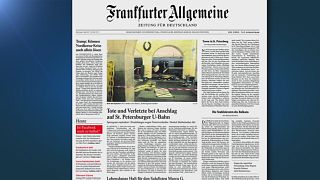 The explosion in St Petersburg dominates Europe's main newspapers with several of them using words such as 'terror' or 'massacre' on the metro.
El Pais: "A bomb causes a massacre in the metro of St Petersburg"
The Independent (London): "Terror on the underground in Russia"
The story has a special resonance in the UK in the wake of the recent attack in Westminster.
In Lisbon and Brussels the papers lament the number of victims while also discussing the challenge facing Russia in its fight against terrorism on several fronts.
La Libre Belgique (Brussels) "Russia, new goal of terrorism, but which one"
While in Germany Chancellor Merkel is quoted within an article describing the attack as a barbaric act.
But perhaps symbolism speaks louder than worlds. Outside Europe, in Tel Aviv's Rabin Square, City hall clothed itself in the colours of the Russian flag in a show of solidarity with St Petersburg.
Tel Aviv City Hall painted in the colors of the flag of Russia, the empathy with the attack in St Petersburg pic.twitter.com/CvasAs9FB4

— מוטי שטיגליץ Motish (@mmotish) April 3, 2017