EU's top Brexit negotiator tells Britain to ''Keep calm and negotiate'' over Gibraltar
Comments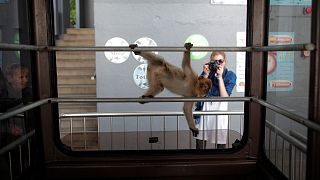 The EU's top Brexit negotiator Michel Barnier has told Britain to ''keep calm and negotiate'' amid a deepening row with Spain over Gibraltar.
Tensions between London and Madrid escalated last week after the EU appeared to hand Spain a veto over the territory's future in Brexit talks.
When asked if he could assure Gibraltar would remain under UK sovereignty, Barnier said.
"Judicially speaking Gibraltar will exit the Union at the same time as the United Kingdom, that is all I can say."
But Gibraltar's Chief Minister Fabian Picardo has vowed the territory will not be used as leverage in the upcoming Brexit talks.
''Gibraltar is not a bargaining chip in these negotiations. Gibraltar belongs to the Gibraltarians and we want to stay British and nothing is going to change that. Nobody is going to gut our soul by taking away our British sovereignty," Picardo said.
Prime Minister Theresa May has laughed off suggestions that Britain might go to war over 'the Rock'. It came after a former leader of the UK's ruling Conservative Party, Lord Howard,
said she might be ready to defend the territory just like Margaret Thacher once did over the Falklands.
Meanwhile, in a sign of mounting tensions, the Royal Navy chased a Spanish gunboat in waters just off Gibraltar on Tuesday in what the British described as an illegal incursion.
Madrid has insisted the ship was in Spain's own territorial waters.