Brazil: protesters line the streets to denounce planned reforms
Comments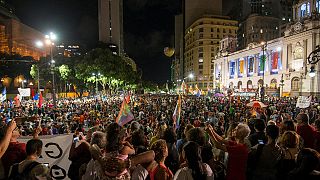 Thousands have taken to the streets of Brazil to protest against the government's proposed economic reforms.
In Rio, demonstrators chanted slogans denouncing President Michel Temer, whose planned changes to pension schemes and labour laws are being touted by the unions as prejudicial to workers.
Social worker Gabriel Monate was among those protesting.
"Our objective today is to block all of those reforms. The outsourcing that was approved recently by Congress, as well as the proposed pension reforms that will potentially turn the Brazilian workers into slaves," he said.
The rallies came as Temer signed into law a bill allowing companies to outsource work for a maximum period of nine months at a time, for similar pay and working hours to regular staff doing equivalent jobs.
The government hopes the measure will help pull the country from a two-year recession.
However, its seems Temer is making few friends. According to an Ibope poll, his administration's approval rating has continued to tumble amid allegations of corruption.
Of 2,000 people polled between March 16 and 19, the number of people who think Temer's government is "bad" or "terrible" rose to 55 percent. That's up from 46 percent in December, the survey suggests.
Meanwhile, the percentage of people rating Temer's government as "great" or "good" slipped to ten percent, down from 13 percent.