Former National Security Adviser Michael Flynn "has a story to tell"
Comments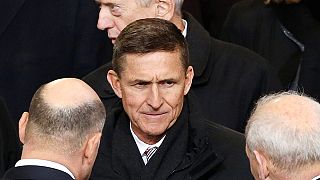 Former National Security Adviser Michael Flynn discussed the possibility of the US lifting sanctions against Russia with Russia's ambassador to Washington whilst Donald Trump was still campaigning for the presidency.
Then he lied to Vice President Mike Pence and other officials, saying he hadn't had that conversation.
In February, less than a month into the job Flynn resigned.
Officials had grown worried that he could be vulnerable to blackmail by the Russians who could threaten to reveal the lie.
But Donald Trump continued to back him up, preferring to blame the media.
"Michael Flynn, General Flynn is a wonderful man, I think he has been treated very, very unfairly by the media, as I call it the fake media in many cases," Trump said in February.
Mike Flynn should ask for immunity in that this is a witch hunt (excuse for big election loss), by media & Dems, of historic proportion!

— Donald J. Trump (@realDonaldTrump) March 31, 2017
Flynn's phone call to the Russian ambassador, which the FBI recorded, is now the subject of a wider investigation by two Congressional committees into how exactly Russia interfered with the presidential election.
President Barack Obama was so convinced that Russia had interfered that he expelled 35 Russian diplomats from the United States last December.
The questions are now circling around the Trump administration. What exactly were its links with Russian President Vladmir Putin's government during the election campaign and what are they now?
On Friday Flynn's lawyer's request that he be made immune from prosecution in exchange for testifying to Congress was turned down.
Robert Kelner said his client "had a story to tell" but was worried about being unfairly prosecuted.
A statement by counsel to General Flynn. pic.twitter.com/JQs90OI2OY

— Robert Kelner (@robkelner) March 30, 2017
And now Flynn is being ridiculed over a soundbite he gave to NBC news during the election campaign.
Whilst discussing Hillary Clinton's use of her personal email
to send classified information when she was Secretary of State he stated: "When you are given immunity you have probably committed a crime."
The US military is also investigating a forty five thousand dollar payment Flynn allegedly received after speaking at a gala to celebrate ten years of broadcasting by the channel Russia Today which the US considers is an outlet for Russian propaganda.