Brexit: regrets and pledges from Remainers
Comments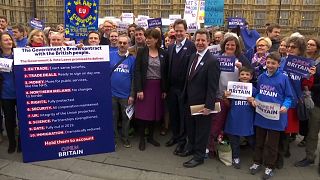 It is too late now to protest.
The Brexit process has been triggered and all those against the UK leaving the EU can do is ensure a good deal from the upcoming negotiations.
"It is a sad day because I campaigned to stay in the EU," said Shadow Brexit Secretary Keir Starmer, "but I and the Labour Party have accepted the result and therefore we are resolute to get the best deal for our country and to shape the future."
"So we're not looking back, we're looking forward but of course it's tinged with sadness, I wanted to stay in the EU."
Former Deputy Prime Minister and pro-EU liberal democrat lawmaker Nick Clegg says the role of Remainers is now more important than ever:
"You have to move beyond that and I don't believe in moping and I don't believe in sort of licking your wounds."
"I do, however, believe that pro-Europeans now have a very important constitutional role, not least by way of the building behind me, by way of parliament, which is to hold the Brexiteers to account for the promises they made to the British people."
What has Theresa May said?
That triggering the process to leave the EU is an historic moment from which "there can be no turning back."
#Brexit letterhandedover – May tells UK parliament- "Article50 processnowunderway, historicmoment, no turningback"

— Catherine Hardy (@fernojay) 29 mars 2017

May was speaking in parliament after the UK's EU ambassador handed a letter to European Council President Donald Tusk giving formal notice under Article 50 of the Lisbon Treaty of the UK's plan to leave.

The UK prime minister told the House the country is about to embark on a momentous journey.

#brexit "Weall wantto seea Britainthatisfairer, strongerthanitistoday. This isa momentousjourney" UK PM saysin parliament.

— Catherine Hardy (@fernojay) 29 mars 2017

The Prime Ministerhas triggeredArticle 50 and startedthe processof leavingthe EU. Read the letter: https://t.co/4CfCle4BP1pic.twitter.com/Gf4DIudIMH

— UK Prime Minister(@Number10gov) 29 mars 2017

Read Theresa May's letter triggering Article 50 of the Lisbon Treaty – the "Brexit" process.
What happened in Parliament
#brexit "Wewillprotectand buildon the rightsof workers. Pursueand buildambitiousnew tradedeal withthe EU." UK PM tells parliament.

— Catherine Hardy (@fernojay) 29 mars 2017

Theresa May tries to allay fears about the erosion of workers rights amid negotiations for a new EU trade deal.

#brexit "Noreasonwhywecannotagreea better, deeprelationshipwiththe EU. I willrepresentUK and EU nationalswholive herein talks"

— Catherine Hardy (@fernojay) 29 mars 2017

Concerns about the future status of UK nationals in Europe and EU nationals in the UK are paramount.

#brexit "Thisnational moment needsa greatnational effort. It istime to come together"- UK PM

— Catherine Hardy (@fernojay) 29 mars 2017

May calls for national unity – a concern as Scotland gets the green light to hold a second referendum.
What they said – the lawmakers
The House of Commons eruptsin laughteras the PM calls for 'liberal, democraticvalues of Europe' #BrexitDaypic.twitter.com/zkgtlcFDDX

— Joe Pickover(@JPickover) 29 mars 2017
What they are saying – the EU institutions
WhatcanI addto this? Wealreadymiss you.https://t.co/iI0FvpKmozpic.twitter.com/VnaDr1YLXN

— Donald Tusk(@eucopresident) 29 mars 2017

Regret from EU Council President Donald Tusk

Our #Brexit team isready. Wewillworkfor #EU27 memberstates, EU institutions & citizens; togetherwithall Commission services. pic.twitter.com/PIOyOQurst

— Michel Barnier (@MichelBarnier) 29 mars 2017

"Our team is ready" – defiance from EU chief negotiator, Michel Barnier

Todayisn't a good day. #Brexit marks a new chapterin ourUnion's history, but we're ready, we'll move on, hopingUK remainsclose partner. pic.twitter.com/Fx6q7lMSnO

— EP PresidentTajani(@EP_President) 29 mars 2017

"Today is not a good day" – European Parliament President Antonio Tajani
Brexit – the timeline
March 29: UK delivers letter to EU Council president Donald Tusk
March 29-31:Tusk sends draft negotiating guidelines to EU 27
March 30:Great Repeal Bill published
April 23: first round of French presidential election
April 29: The EU 27 meet at a summit to agree final guidelines and mandate for negotiations
April 29-May 2: EU Brexit negotiator Michel Barnier gives detailed recommendations for negotiations
May 7: final round of French election
Spring:Great Repeal Bill announced at opening of parliament
Late May-early June: Formal face-to-face talks begin
September 24:German parliamentary elections
Late 2017: Great Repeal Bill passes through Parliament
December 2017:Barnier expects initial talks to conclude
Early 2018: Great Repeal Bill likely to get royal assent
30 September 2018: Barnier wants Brexit terms agreed
Late 2018-early 2019: both UK Houses of Parliament vote on the deal
March 2019: two year Brexit negotiating window closes. The UK will leave, deal or no deal.
Explanationof the Brexitnegotiationprocess, determininghow the UK willleavethe EuropeanUnion #brexitdaypic.twitter.com/u8f6NGituU

—

AFP

news agency(@AFP) 29 mars 2017