UK-US carry-on electronic device bans come into force
Comments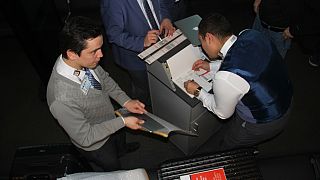 A ban on large electronic devices in aeroplane cabins has come into effect on several airlines flying into the UK and US.
Citing attacks on aircraft and in airports in recent years, the US has applied the restrictions to nine carriers from eight countries: Turkey; Morocco; Jordan; Egypt; the United Arab Emirates; Saudi Arabia; Qatar; and Kuwait. The UK ban covers six nations, excluding the UAE, Morocco and Kuwait, but including Lebanon and Tunisia.
Most electronic devices larger than a smartphone must be stored in the hold, however, cameras are allowed on UK-bound flights.
Both bans include Turkey, a hub for many travelling from Asia through to Europe and the States.
President Recep Tayyip Erdogan has urged the US and UK to remove the restrictions as soon as possible.
Turkish Airlines is allowing the use of laptops, tablets and other electronic items up to the boarding gate, where they will be taken from travellers and packed away into the cargo hold. Some airlines are also offering complimentary packing services for electronics.
But, inconvenience aside, there are fears the new regulations will hit airline profits and affect travellers' insurance policies if devices are lost – some companies will not cover valuables that go missing from checked-in luggage.
According to the Association of British Insurers (ABI), the majority of travel insurance policies will not cover the loss or theft of "unattended belongings". This includes any items you cannot see or which are not nearby.