London attack: Moment car drove into pedestrians on Westminster Bridge - video
Comments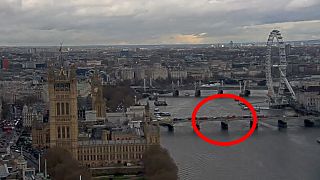 The moment that a car drove into pedestrians on London's Westminster Bridge, close to Britain's parliament, on March 22 has been captured on video.
A speeding car can be seen entering the bridge on the right-hand side of the screen, it then continues along the pavement running over those in its path, as some pedestrians jump into the river Thames below.
Not pictured in the footage is the aftermath in which the car crashed into railings just outside parliament.
Four people were killed and around 40 injured in the worst attack of its kind in England's capital since 2005, when four British Islamists killed 52 commuters in suicide bombings on the city's transport system.