Successful surgery removes 'extra legs' from baby
Comments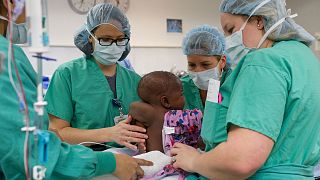 A baby girl born with four legs and two spines is now healthy after undergoing risky surgery at a hospital near Chicago.
Ten-month-old Dominique was born in the Ivory Coast with a rare condition whereby she had the remnants of a not-fully-developed conjoined twin still attached to her.
Dr. John Ruge, from Advocate Children's Hospital in Park Ridge, Illinois, explained: "It was as if the twin from the waist down had been attached to the back of Dominique's neck and there was a pelvis, bladder, and functional legs that moved and feet coming out of the back of Dominique's neck."
Dominique's heart and lungs provided all the support for both body structures.
A team of five specialists performed the life-changing surgery to removed the two extra legs and a second spine. It took six hours and they had first to prepare a 3D model of her unique anatomy to be sure where to work.
The girl would likely have faced paralysis without the surgery and doctors say she should now be able to lead a normal life.
Really honoured
Nancy Swabb and her family are fostering Dominique while she is in the United States. She says Dominique is about two pounds lighter now, can sit up well and reach for things. Dominique is expected to go home to her family in the Ivory Coast as soon as next month.
Nancy Swabb called her a very special baby: "If you can say love at first sight I think that's true for us. We've thought every day, every moment, about her family waiting for her return, and just feel really honoured to be able to be her family for a little while."