What is behind the decision to ban certain electronic devices from US-bound flights from a list of Muslim countries?
What is behind the decision to ban certain electronic devices from US-bound flights from a list of Muslim countries?
The Department of Homeland Security (DHS) believes there is an elevated risk of a bomb being hidden in a laptop, tablet, camera or similar electronic device. Experts believe a small explosion from a bomb emanating from a laptop could have a "catastrophic" affect on an airplane flying at altitude.
The DHS referenced attacks such as the case of the explosion on a Daallo Airlines flight from Somalia and the downing of an Egyptair plane in 2016.
Large electronic items will only be allowed in checked baggage.
When does the ban come into effect?
Officials have given airlines 96 hours, beginning at 0700 GMT today
How long will it last?
No end date has been given.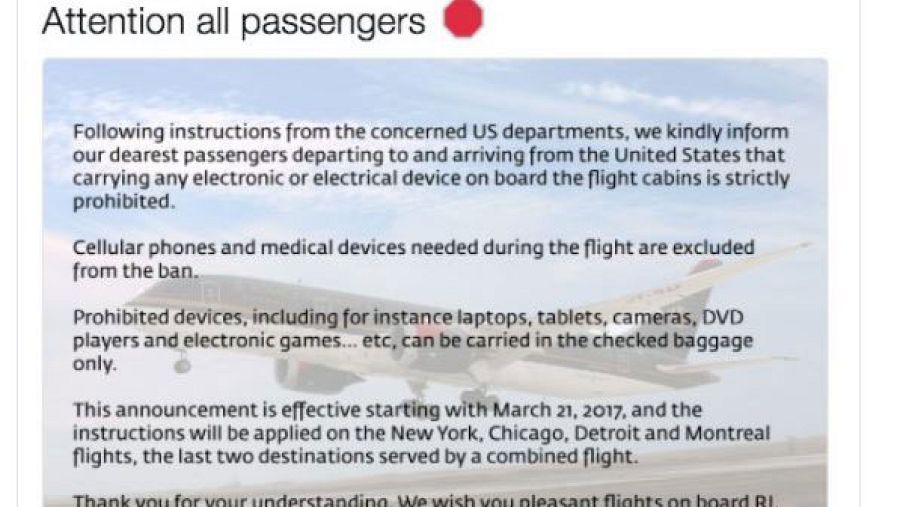 What items are on the no-go list?
Banned devices include laptops, tablets, e-readers, cameras, portable DVD players, electronic gaming units larger than a smartphone, and travel printers/scanners.
Does this include mobile phones?
No, mobile phones are exempt
Which airlines are affected?
Royal Jordanian
Egypt Air
Turkish Airlines
Saudi Arabian Airlines
Kuwait Airways
Royal Air Maroc
Qatar Airways
Emirates
Etihad Airways
Which airports are affected by the electronics ban?
Hamad International Airport, Doha, Qatar
Dubai International Airport, UAE
Abu Dhabi International Airport, UAE
Ataturk International Airport, Istanbul, Turkey
Queen Alia International Airport, Amman, Jordan
Cairo International Airport, Egypt
King Abdul Aziz International Airport, Jeddah, Saudi Arabia
King Khalid International Airport, Riyadh, Saudi Arabia
Mohammed V Airport, Casablanca, Morocco
Kuwait International Airport, Kuwait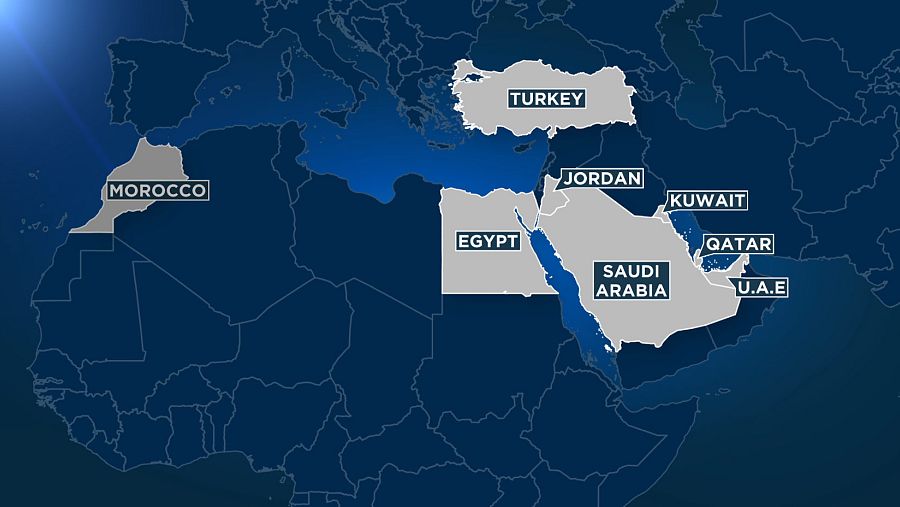 Why these airports?
The United States is worried that there may be gaps in screening and that there is a chance that terrorists have infiltrated authorised airport personnel.
Passengers departing from the US will be allowed to take electronic devices onto flights
What's with the UK ban?
Soon after the US ban the UK said it would not allow phones, laptops and tablets larger than 16.0cm x 9.3cm x 1.5cm in the cabins of airplanes. Smartphones will not be affected
And this applies to inbound and outbound flights from where?
This applies to inbound flights from the following countries:
Turkey
Lebanon
Egypt
Saudi Arabia
Jordan
Tunisia
The British regulations affect British Airways, easyJet, Jet2, Monarch, Thomas Cook, Thomson, Atlas-Global, Pegasus, EgyptAir, Royal Jordanian, Middle East Airlines, Saudia, Turkish Airlines and Tunisair.
What if I bring my electronics anyway?
Passengers who attempt to bring their banned electronic devices into the cabin of their flight will be ordered to put them to the hold of the plane.
Passengers may additionally have to pay an extra fee and travel insurance may not cover costs if the device gets damaged or stolen.