Libya is promised money and equipment to help fight the people smugglers
Comments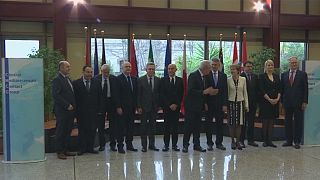 Officials from Italy and the EU say they are ready to send equipment and economic aid to Libya to help it fight people smuggling.
Italy has hosted a meeting of interior ministers from eight European Union countries, including Germany and France, to strengthen support for last month's agreement to help Libya fight human trafficking.
The leaders of some North African countries were also invited.
"Now there must be very significant investments," Italian Interior Minister Marco Minniti told reporters after the meeting. "There is a total and absolute commitment to do this."
"Migrant flows to Italy unfortunately continue to increase," added EU Migration Commissioner Dimitris Avramopolous. "If there is one country under huge pressure, it is Italy."
In #Rome with Minister Minniti and colleagues to discuss #migration situation in Central Mediterranean pic.twitter.com/VT3j9AzUVQ

— DimitrisAvramopoulos (@Avramopoulos) 20 mars 2017
What are the details?
The first of 10 patrol boats promised to Libya's coastguard will be send by mid-May, Minniti said. Neither he nor Avramopolous said when other aid may be allocated.
Migrants stopped by the Libyan coast guard will be brought to camps managed by the Tripoli government, but which will be assisted by UN humanitarian agencies and the EU.
"There will be camps that are created together with the humanitarian organisations in full respect of people's rights," Minniti said, adding that migrants will be able to seek asylum in Europe from the Libyan camps.
He insisted the Libya agreement and meeting were not just "talk" but strategic steps toward managing a mass migration to Europe.
EU must share migrant burden – Gentiloni – First boats for Libya by mid-May says Minniti https://t.co/eFGbg651rR

— Ansa English News (@ansa_english) 20 mars 2017
The numbers
200m euros – set aside by EU last month to tackle smuggling in the central Mediterranean
90m earmarked for Libya
200m separate fund set up by Italy to help African countries control their borders
What does Libya think?
The leader of Tripoli's UN-backed government is seeking more resources.
Fayez al-Seraj spoke to the group behind closed doors, "asking for more money and equipment" said an anonymous source.
Italy's Corriere dells Sera newspaper says Seraj is seeking a total of 800 million euros and has compiled a long list of the equipment needed, including four helicopters and a total of 20 boats.
Smugglers are thriving in the power vacuum left after the overthrow of former Libyan leader Muammar Gaddafi in 2011. Two governments are now vying for control – in Tobruk to the east and Tripoli to the west. The country is mired in factional fighting.
Is the migrant flow still strong?
Yes. Figures suggest the flow is increasingly significantly across what is known as the "Central Mediterranean Route" from North Africa to Italy.
Rescuers picked up about 3,300 migrants from rubber boats off the coast of Libya on Saturday. Boat arrivals to Italy have surged around 50 percent compared to the same period last year.