Passengers restricted by Trump's travel order allowed to board flights to US
Comments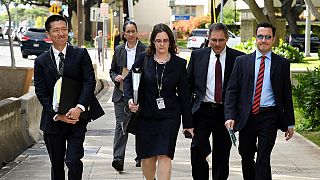 Passengers from the six Muslim-majority countries on President Trump's revised travel order have been allowed to board flights to the United States.
The move comes after a federal judge blocked the immigration and refugee executive order, which was specifically designed not to discriminate on the basis of religion.
"…[T]here were such great pains to make the language more neutral actually served as a pretext," Hawaii attorney general Doug Chin told reporters. "And it actually showed that they were trying even harder to to mask what was a religious animus — and animus just means, you know, basically a hostility."
3 Most Idiotic Pronouncements From Hawaii Judge's Decision Restraining Trump's Executive Order https://t.co/oNq4H6b3zKpic.twitter.com/1n1wvRz1ip

— Ben Shapiro (@benshapiro) March 16, 2017
Trump's first travel order signed in January was more sweeping than the second, revised one. It applied to nationals of Iran, Iraq, Syria, Libya, Somalia, Sudan, and Yemen for 90 days. All refugees were blocked for 120 days, with the exception of Syrian refugees who were banned indefinitely.
The second order no longer applies to citizens from Iraq and removes the specific block for Syrian refugees.
The Washington state attorney general who initiated the suspension of the first order, Bob Ferguson, welcomed the temporary block of the revised one.
"It's exactly what we' re looking for, exactly what Matt at Northwest Immigrant Rights Project is seeking, exactly what the plaintiffs in the Maryland are looking for in New York, California, Maryland, Massachusetts, Oregon – It's fantastic news."
In the US state of Maryland, the plaintiff, a group of refugee associations, questioned Donald Trump security argument.
"If there are real threats, then those threats should be investigated on an individual basis," said Lee Gelernt, an attorney from one of the groups challenging the order. "But we should not assume that any group or religion is more dangerous than another group. Not on the basis of religion."
Trump said the decision by the judge in Hawaii was an example of what he described as "unprecedented judicial overreach."
"We are going to take our case as far as it needs to go, even to the Supreme Court," he said. "We are going to win. I will not stop fighting for the safety of you and your families. Not today, not ever. We're going to win it. We are going to win it. We are going to apply common sense. We are never quitting and we are never going away."
The revised order was temporarily frozen just hours before it was supposed to go into effect.
If President Trump keeps trying to defend his Muslim ban in court, we'll keep winning. #NoBanNoWallNoRaidspic.twitter.com/ZD18CPeGEI

—

ACLU

National (@ACLU) March 16, 2017