China starts 2017 with robust growth but retail sales disappoint
Comments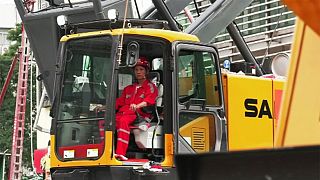 China's latest official statistics show the economy got off to a robust start in 2017.
There was strong bank lending, a lot of spending on infrastructure by the government and a much-needed expansion in private investment as surging demand for steel for new roads, bridges and homes lifted factory output.
"Today's data appeared to be mainly driven by infrastructure spending and a rebound in the real estate sector," said Zhou Hao, a Singapore-based economist at Commerzbank.
China combines January and February activity data in a bid to smooth out seasonal distortions caused by the timing of the long Lunar New Year holidays, which began in late January this year but fell in February last year.
Retail disappoints
Retail sales rose less than expected in the first two months of the year – up by 9.5 percent. That was the slowest pace in nearly two years and cooling from 10.9 percent in December.
China retail sales growth falls to single-digits for the first time in 14 years. pic.twitter.com/zxcP29vGYw

— David Ingles (@DavidInglesTV) March 14, 2017
But the statistics bureau pointed out that was mainly due to a slowdown in automobile sales after the government rolled back tax breaks on small cars.
How sustainable?
China's leaders want solid growth as they try to roll back the risks from a sharp build-up in debt.
But economists are not sure how long the pace can be sustained as the central bank is now discouraging lending and exporters are bracing for increased US protectionism.
"This strength remains heavily reliant on rapid investment growth that will be difficult to sustain given clear signals that the fiscal and monetary policy stance will be less supportive this year," says Julian Evans-Pritchard, a Singapore-based China Economist at Capital Economics.
Reduced growth target
China has cut its growth target to around 6.5 percent this year to give policymakers more room to push through painful reforms to reduce financial risks created by years of debt-fuelled stimulus. The world's second-largest economy grew 6.7 percent last year, the slowest pace in 26 years. (Full Story)
China's first-quarter economic growth could accelerate to 7.0 percent year-on-year, from 6.8 percent in the last quarter, economists at OCBC wrote in a note last week.
But OCBC and many other China watchers expect that pace will begin to slow starting in spring as the payoff from last year's stimulus spree begins to fade.
China's GDP growth to reach 6.5% in 2017: economist https://t.co/wBzesxKUpnpic.twitter.com/kKCagr8EyQ

— People's Daily,China (@PDChina) March 13, 2017