Women's Day marchers target Trump on abortion and pay gap
Comments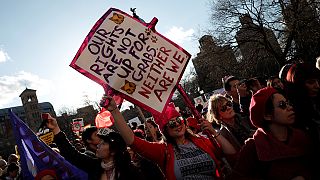 International Women's Day saw demonstrations across America in favour of economic equality and against President Trump's policies on abortion and healthcare.
"Stop the gag" read the slogan on a large banner as thousands marched in Washington DC near the White House.
It was a reference to President Trump's order barring US-funded foreign health providers from raising abortion as an option.
The day's protests also highlighted the gender pay gap – as protesters called for economic equality – and other issues.
"If I rule the world, one thing we would do to make the future better, would be the education of girls. Not just here in America, but across the world. Because once women succeed, the world succeeds. Thank you all very much for coming," said Democratic leader of the House of Representatives, Nancy Pelosi, addressing those who rallied on Capitol Hill.
Rallying under the slogan "A Day Without a Woman", many heeded the call to stay away from work or school – as others did last month to protest against the US president's immigration policies.
In New York they gathered a few blocks away from the Trump Organization.
"In a way it's good that everyone is coming out and we're starting to get together. We are starting to become a nation that stands by each other. It's just sad that in this day and age it needs to happen still. But I'm just proud that everyone is out supporting and helping each other," said demonstrator Syndy Benjamin.
"I'm here to support my wife, my daughters and my granddaughters. So I'm getting somewhat emotional because I think it's extremely important nowadays with the leadership that we have," added another marcher, Samuel Bliman.
President Trump tweeted his support for the movement, urging others to join him in honouring the critical role of women in America and around the world.
But many marchers will remember his denigrating comments about women in the past. He has been heavily criticised for inflammatory comments, including his boast about sexually molesting women in a 2005 video.