China's ZTE to pay massive US fine over Iran, North Korea sanctions busting
Comments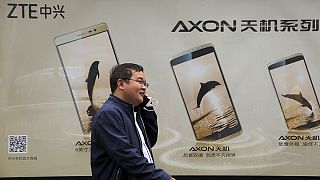 US Commerce Secretary Wilbur Ross has announced that Chinese telecommunications equipment maker ZTE is pleading guilty to violating laws restricting the sale of American-made technology to Iran and North Korea.
Ross revealed the company will pay $1.19 billion (1.12 billion euros) in fines and penalties.
"Those who flout our economic sanctions and export control laws will not go unpunished," Ross said in a statement. "They will suffer the harshest of consequences."
Wilbur Ross: ZTE's actions and coverup were "insulting" and "dangerous." $1.2b fine is "putting the world in notice." pic.twitter.com/V4TsB3nFSK

— Ylan Q. Mui (@ylanmui) March 7, 2017
ZTE – which is is one of the world's biggest telecoms gear makers – admitted shipping large amounts of US made hardware and software to Iran's largest telecoms carrier and lying about that when caught.
The offences occured between January 2010 and January 2016, the US Justice Department said.
In addition there 283 shipments of controlled items to North Korea, US authorities said.
Shipped items included routers, microprocessors and servers controlled under export regulations for security, encryption and anti-terrorism reasons.
Full Wilbur Ross statement on huge ZTE civil and criminal penalty: https://t.co/DCafKuPn6H

— Ian Guider (@ianguider) March 7, 2017
Mistakes
"ZTE acknowledges the mistakes it made, takes responsibility for them, and remains committed to positive change in the company," ZTE Chairman and Chief Executive Zhao Xianming said in a statement.
It is the fourth largest seller of smartphones in the US and at one stage Washington threatened to block it from selling handset there.
Commerce Sec WilburRoss</a> on <a href="https://twitter.com/SquawkAlley">SquawkAlley just now: Still investigating whether U.S. companies were complicit in ZTE tech sales to Iran

— Jon Fortt (@jonfortt) March 7, 2017