Prices spike in Spain but government says it's temporary
Comments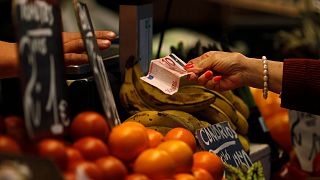 Spanish inflation hit 3 percent in February compared to the same month last year.
We don't see it as a threat

Spain's secretary of state for trade
That was up from January's 2.9 percent and is well above the European Central Bank's price stability target.
A big part of the rise was due to higher energy prices. The government called the increase temporary saying electricity costs will decline.
Ministers also downplayed any fears for Spain's economic recovery and believe inflation will be below 2 percent in the second quarter of the year.
"We don't see it as a threat," Marisa Poncela, secretary of state for trade, said of the inflation trend in an interview published in Expansion newspaper on Monday.
Spain records one of the euro area's fastest inflation rates https://t.co/YzgUrRvJ4Qpic.twitter.com/EOaoNIj1Gl

— Bloomberg (@business) February 27, 2017
Weaker prices had helped fuel a recovery in consumer spending after household budgets were hit during Spain's deep recession.
The ECB's inflation target is close to but just below 2 percent.
Preliminary inflation readings for Germany are due on March 1, while data for the euro zone as a whole will be released on March 2.