Where Eagles Dare: France trains birds to bring down drones
Comments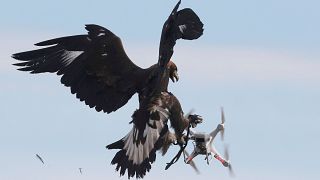 The French Air Force is training baby eagles to bring down remote-controlled drones that have strayed into restricted airspace.
France trains eagles to down drones https://t.co/kYQfmjIMGkpic.twitter.com/fiWy3vThLC

— Bangkok Post (@BangkokPostNews) February 16, 2017
Where are they being trained?
At the air force base in Mont-de-Marsan in the south-west of the country.
Military training
The birds are getting full military training for combat against battery-operated drones that can be bought over-the-counter.
To acclimatise them, the baby birds were placed on top of drones while they were still in the egg.
They were kept there after they hatched and during their first days.
They are trained to see drones as prey and are rewarded with a piece of meat after each successful foray.
WATCH

: French eagle takes down a drone
WATCH: French Air Force trains eagles to attack drones: https://t.co/6htIALHfHEpic.twitter.com/d633ubIosb

— Good Morning America (@GMA) February 16, 2017
Why are the French doing this?
Security concerns.
Drone flights over the Elysee presidential palace and a sensitive military site in the western region of Brittany in early 2015 prompted legislation restricting their usage in urban areas and obliging users to warn the authorities of their planned use.
Are any other countries doing this?
Yes.
Dutch police have also trained eagles to snatch enemy drones.
Other killer birds
The Birds – a 1963 US surrealist horror-thriller film directed by Alfred Hitchcock.
Angry Birds – a popular video game turned into a 2016 film.
Pterodactylus – not strictly a bird but a flying predator, nonetheless.