Is renewed fighting in Ukraine linked to Trump taking office?
Comments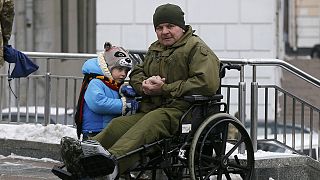 Heavy fighting flared up recently in eastern Ukraine between pro-Russian rebels and Ukrainian soldiers.
It centred around Avdiivka which many civilians fled as it was being shelled. It was well below freezing in the industrial city and there were water and power supply cuts.
Svetlana talks to her daughter through the window of the bus evacuating her from #Avdiivka as violence escalated https://t.co/DB1JjDmh0rpic.twitter.com/mglehpc0ML

—

UNHCR

Ukraine (@UNHCRUkraine) February 9, 2017
Some analysts were quick to note it came the day after Donald Trump spoke to the Russian President Vladimir Putin for the first time.
Since Trump is Putin's ally, so the line of thinking went, Vladimir Putin had a freer hand to direct the separatist rebels there to fight on.
Two peace deals, Minsk one and Minsk Two, have been breached far more times than they've ever been observed, although the conflict had been pretty much at a stalemate until now.
Nearly 10,000 people have been killed since 2014, more than half of them civilians.
The fighting in the Donbass region began when pro-Russian gunmen seized buildings in the Crimea which was then formally annexed by Russia in March 2014.
Government buildings were also seized in eastern Ukraine and independence was declared in Luhansk and Donetsk in May 2014.
Since taking office Donald Trump has remained non-committal about the extensive economic sanctions on Russia that were imposed after it invaded Ukraine and annexed Crimea in 2014, although during his campaign he hinted that he might recognise Crimea.
Meanwhile Ukraine continues to protest against Russia's invasion and occupation of its land, but now that Trump is in power many Ukrainians fear Putin may have even more room to manoeuvre in their country.