The West Bank reacts to Israel's settlement legislation
Comments
By
Euronews
with
Reuters, The Guardian, The New York Times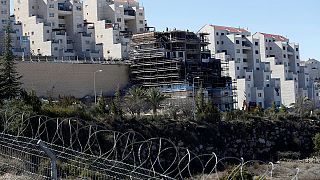 Israel's move to retroactively legalise thousands of settler homes in the West Bank has proved contentious.
The United Nations' Middle East envoy said the law crossed a "very thick red line" while prominent Israeli human rights groups are planning to challenge the law in the Supreme Court.
Ahead of the ruling, even Israel's attorney general labelled it unconstitutional and said he would be unable to defend it.
Israeli politicians claim Israel has a right over its fatherland that they say cannot be denied.
Tomer Rehovi, a resident of Givat Zeev, agreed with the new bill.
"Both sides benefit actually," he said. "The side who owns the land but cannot fulfil its presence on it receives a respectable amount of money and can build somewhere else. And the side who already lives there won't have to dismantle his life achievement. It's common in many places worldwide, and it makes sense. Now the decision has been made, it sounds like a good and worthy thing."
Palestinians, such as Hebron resident Imad al-Mukhtafed, don't share the view.
"Having the legislation for settlements means that Palestinians will live in ghettos and apartheid areas. In other words, suffocating Palestinians. These areas are, according to all the international norms, known as pure Palestinian lands for the future Palestinian state."
Even Prime Minister Benjamin Netanyahu reportedly expressed concerns the law could invite international legal actions against Israel.
However, he succumbed to pressure from within the ruling coalition and eventually allowed it to pass.