Alternative facts: Trump challenged over ISIL attacks 'ignored by media'
Comments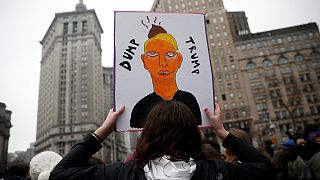 The US president's latest foray into the world of 'alternative facts' has been widely ridiculed.
Whoever looks closely at the list... realises that it is complete nonsense

German Association of Journalists
Addressing the military during his visit to US Central Command at Tampa, Florida on Monday, Donald Trump claimed that the media were ignoring ISIL-inspired attacks.
"You've seen what happened in Paris, in Nice, all over Europe it's happening. It's gotten to a point where it's not even being reported. And in many cases the very, very dishonest press doesn't want to report it. They have their reasons and you understand them," the president said.
The White House later released a list to back up his comments.
Here's the list the White House sent of attacks they feel "did not receive adequate attention from Western media sources." pic.twitter.com/lj8eOZQfnY

— Kevin Liptak (@Kevinliptakcnn) February 7, 2017
Germany's Association of Journalists has called for the press to rise to the Trump challenge. His list of allegedly under-reported attacks included six in Germany – all of which received media coverage.
"The problem is effectively, that he keeps making untruths, or semi-truths public and then acts like it is common knowledge. But whoever looks closely at the list, which has now been published here in Germany as well, realises that it is complete nonsense," said Frank Ueberall, head of the German Association of Journalists.
The White House communique, riddled with spelling mistakes, listed 78 allegedly under-reported attacks around the world between September 2014 and December 2016.
They include major atrocities such as those in Paris and Nice, Berlin, which received blanket coverage – as well as the attacks on American soil at Orlando and San Bernardino.
Paris and Brussels attacks on Trump list of 'under-reported' terrorism https://t.co/uqijUrnz5g

— Alasdair Sandford (@SandforAlasdair) February 7, 2017
"The media are partly being discredited as much as the democratic system is being discredited. We have to address this, to talk about it and to argue about what is relevant and what isn't," Ueberall added.
Also on Trump's list was the murder of a British backpacker in Australia that was not terror-related, as police said when the suspect was charged, and the victim's mother repeated in response to the president's claims.
Euronews reported on nearly three-quarters of the attacks on Trump's list. The others had no fatalities or were not terror-related.
The president is fighting a court battle to reinstate his temporary travel ban on refugees and people from seven majority-Muslim countries.
The threat from radical Islamic terrorism is very real, just look at what is happening in Europe and the Middle-East. Courts must act fast!

— Donald J. Trump (@realDonaldTrump) February 7, 2017