Fears in Brussels mount after Bucharest weakens corruption fight
Comments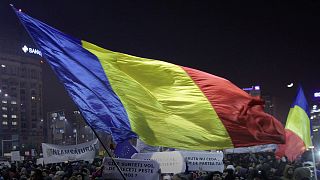 In Brussels, there is increasing alarm over the Romanian government's emergency decree, which critics say will reduce penalties for corruption.
The EU Commission has urged Bucharest to reconsider, while MEP's have also voiced their deep concerns over the new law.
Speaking to Euronews, Romanian MEP Siegfried Muresan said:"We have ten days now to try to reverse things because if within these ten days the government cancels its own decree, it will not enter into force and the damage to the rule of law, the judiciary will not be done. So all of the international partners, the European Commission, but also the member states, our partners also from across the Atlantic, from the USA, should use all tools which they have to put pressure on the current government to withdraw this piece of legislation.''
Other Romanian MEPs based in Brussels say the problem with corruption inside their homeland is systemic.
''Corruption is a problem in Romania like in many other EU countries. We need to prevent it, but unfortunately Romania has hardly done anything to stop corruption. We need to have clear laws. Laws in which there is absolutely no possibility that they can be interpreted in favour of one side or another,'' liberal MEP Norica Nicolai said.
Brussels has threatened Bucharest with cuts to its European funding should it refuse to reverse the emergency decree.