Yemen has 'only 3 months supply' of some key food stocks
Comments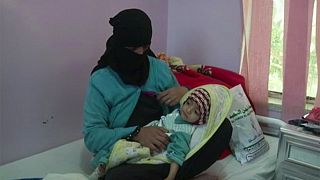 Yemen has only around three months supply of wheat stocks and could see similar shortages of other food grains such as rice.
According to Reuters, that's the assessment of Jamie McGoldrick, UN Humanitarian Coordinator in the country, as starvation deepens in the Arab peninsula's poorest country.
A crisis at the central bank has seen food imports cut with no guarantees of any improvement for some months.
"Overall, the plight of children remains grim, with a child under the age of five dying every 10 minutes of preventable causes," said Stephen O'Brien, the UN's humanitarian chief, in a statement to the Security Council.
"Since the hostilities began in March 2015, more than 1,400 children have been killed and over 2,140 injured."
My full remarks to the #UNSC just now on #Yemen, the largest food security emergency in the world. https://t.co/epOum3aP1Kpic.twitter.com/mp9ZRrFOoS

— Stephen O'Brien (@UNReliefChief) January 26, 2017
It has been estimated that nearly two-thirds of the population are in need of aid: the effect of the war between a Saudi-led Arab coalition and the Houthi movement which is aligned to Riyadh's rival Iran.
The head of the European Union's delegation to the country, Antonia Calvo Puerta, has praised as a first "brave step" the World Bank's pledge of $450 million (420 million euros) in emergency support for Yemen.
The UN has said it will need around $2 billion (1.8 billion euros) this year to confront what it calls the world's "largest food security emergency".
#StandWithYemenoxfam</a>'s <a href="https://twitter.com/Mark_Goldring1">Mark_Goldring1 says humanitarian supplies are keeping millions alive through #yemencrisis

— Nicola Peckett (@NicolaPeckett) January 26, 2017
Yemen's wheat reserves down to three months supply: U.N. official https://t.co/BhFCISUgkGpic.twitter.com/e1HER7SWsv

— Reuters World (@ReutersWorld) January 27, 2017