Anger after rat is strung up by its limbs
Comments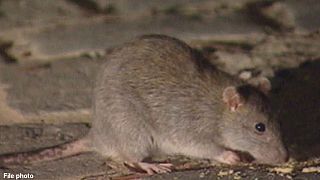 Images of a rat being strung-up by its limbs in China have been condemned as 'heartbreaking' by animal rights campaigners.
The photos were posted on Chinese micro-blogging site Weibo after the rodent was caught making off with rice in a warehouse in southern China, according to Storyful.
[Warning: graphic images]
Heartbreaking :( Rats might not be as cute and cuddly as cats and dogs, but they feel pain and suffer all the same. https://t.co/MEqCrL0ycd

—

PETA

Asia (@PETAAsia) January 26, 2017
The rat, which died after the incident, is shown with signs written in Chinese.
One of them read: "Ha, do you think this is all I've got? Even if you beat me to death, I would not admit I stole your rice."
The other translates as: "I dare not do it again!"
The Asia branch of People for the Ethical Treatment of Animals (PETA) said the images were heartbreaking.
"Rats might not be as cute and cuddly as cats and dogs, but they feel pain and suffer all the same," the branch said in a post on Twitter.
Jason Baker, PETA Asia's vice-president for international campaigns, said: "The people responsible for this sick stunt show a disturbed mindset. The inability to empathize with the plight of the most helpless among us quite rightly horrifies caring people everywhere and is a cause for concern in the community. Research into criminology and psychology shows that people who commit acts of cruelty to animals are likely to pose a danger to the entire community, and if we don't treat these acts of callousness with the seriousness that they deserve, we put the lives of animals and humans at risk.
"Our posts on this issue has already reached 120,000 people in China, and the comments on our pages and have made it clear that people in China don't believe any animal should be treated like this."
CNN reports the comments under the post were generally disapproving, but Shenzhen Traffic Police responded to the photos with three laughing emojis.
Peter Li, reacting to an incident last year in which a man dragged a dog to death behind a car, said there was significant support for the Chinese government to address the issue of animal cruelty.
Li, an associate professor of East Asian Politics at the University of Houston-Downtown, told the South China Morning Post: "Animal abuse, online posts of violence and institutionalised exploitation of animals are divisive and socially destabilising. Already, Chinese society is divided into two camps – animal lovers and their opponents. Their conflict could develop into social unrest if the government continues to tolerate animal cruelty.
"Anti-cruelty legislation cannot be postponed any longer. China is materially and philosophically ready to legislate for animal protection. The authorities should realise that abusers are not just a threat to animals; they could become a threat to fellow humans."