Obama flies out of DC as Biden takes train
Comments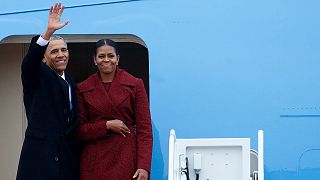 Another significant moment on the day Donald Trump was inaugurated as the 45th President of the United States saw his predecessor Barack Obama with his wife Michelle walk away from Capitol Hill for a final time.
After the transfer of power ceremony the former commander-in-chief and first lady boarded Marine One bound for Joint Base Andrews in nearby Maryland.
Pres. Obama waves goodbye as he boards Marine One for Joint Base Andrews with Michelle Obama #Inauguration2017pic.twitter.com/WT4EEPAtMX

—

NBC

News (@NBCNews) January 20, 2017
President Trump, his wife Melania, Vice President Mike Pence and his wife, Karen were all present on the east steps of the Capitol building to wave the Obama's off.
After arriving at the airbase – the home base of Air Force One – in Prince George's County, Obama made the last of his farewell speeches to a crowd of supporters including most of his top White House aides.
He told his former staffers: "I said before and I will say again that when we started on this journey, we did so with an abiding faith in the the American people and their ability, our ability to join together to change the country in a way that would make life better for our kids and our grandkids.
''The change didn't happen from the top down but from the bottom up. It was sometimes met with scepticism and doubt, some folks didn't think we can pull it off. There were those who felt that institutions of power and privilege in this country were too deeply entrenched and yet all of you came together, in small town, in big cities, a whole bunch of you really young, and you decided to believe and you knocked on doors and you made phone calls and you talked to your parents, who didn't know how to pronounce Barack Obama.
"You got to know each other and you went to communities that maybe you never even thought about visiting and met people that on the surface seem completely different from you, didn't look like you, talked like you, watched the same TV programmes as you and yet, once you started talking to them, it turned out that you had something in common.
''And it grew and it built. And people took notice. And throughout, it was infused with a sense of hope. And as I said in 2004, it wasn't blind optimism that drove you to do all this work, it wasn't naivety or willful ignorance to all the challenges that America faces, it was hope in the face of difficulty," he said.
Whilst the Obama's boarded Special Air Mission 2900 – the military aircraft known as Air Force One when the president's using it – for a well-deserved holiday to Palm Springs, former Vice-President Joe Biden and his wife, Dr. Jill Biden made a less luxurious exit out of Washington DC.
He left the political stage on a Amtrak train, heading back to his home state of Delaware – a short commute Biden used to do as a Senator on a daily basis.